Project Overview
SPEEDECK collaborated with a regional Main Contractor to design and construct the foundations for the Climping Care Home at Baird's Farm.
Using SPEEDECK's Geo-Structural expertise and efficient CFA Piling techniques, we achieved a 25% reduction in pile numbers. The cornerstone of this project was an Adaptive Slab Design, which specifically optimised the scheme to facilitate uninterrupted workflows.
As a direct consequence, substantial programme and financial efficiencies were realised, culminating in the handover of the slab's central portion within a 5-week window.
The comprehensive scope of the project, encompassing the implementation of underslab drainage systems, was executed and finalised in 9-weeks for this 64-bed dementia care home.
40%

concepting

10%

detailed design

50%

duration on site.
Concept Design
SPEEDECK demonstrated technical leadership by optimising the foundation strategy, leveraging innovative design techniques, and emphasising the importance of safety and structural integrity:
Optimised Piling Strategy: By reevaluating the foundation design, we secured a 25% reduction in pile numbers from the initial engineers scheme, demonstrating our ability to enhance efficiency and meet the distinct demands of the project.
Foundation and Simplification through Low-profile Raft: The innovative use of a low-profile raft yielded multiple advantages, including the abolition of traditional foundational elements like pile mat, ground beams, and substructure brickwork, as well as substantial financial savings by avoiding the costly dewatering processes due to elevated water levels.
Reinforced Raft Innovation: Our strategic choice of a reinforced concrete raft, combined with an overslab gas membrane, tackled the specific challenges introduced by Characteristic Situation 2 (CS2) gas levels, which can be considered a moderate risk to human health. Due to this, we eliminated the need for under-slab ventilation with our reinforced concrete raft, ensuring a smoother construction programme.
Design Engineering
SPEEDECK delivered efficiency in approval processes and cost management, whilst showcasing adaptability in slab design to meet specific operational challenges:
Swift Approval Process: We processed and submitted the GA's (general arrangement drawings) within just a week of obtaining the design specifics.
Strategic Cost Management: By presenting a robust case for omitting heave precautions beneath the slab, we achieved significant cost reductions.
Adaptive Slab Design: Our forward-thinking approach led to the design of a central section of the slab tailored specifically for crawler crane operations. This innovation enabled uninterrupted work schedules, consolidating what could have been multiple phases into one fluid operation and resulted in considerable program and preliminary financial savings for our client.
Construction
Displaying our project management and integrated expertise, the entire construction, inclusive of intricate underslab drainage, was accomplished in just 9 weeks.
The installation of waterproof concrete, further strengthened by a comprehensive materials guarantee, ensures both durability and peace of mind.
The central portion of the slab was promptly handed over within 5 weeks, enabling seamless crane operations and keeping the project on track.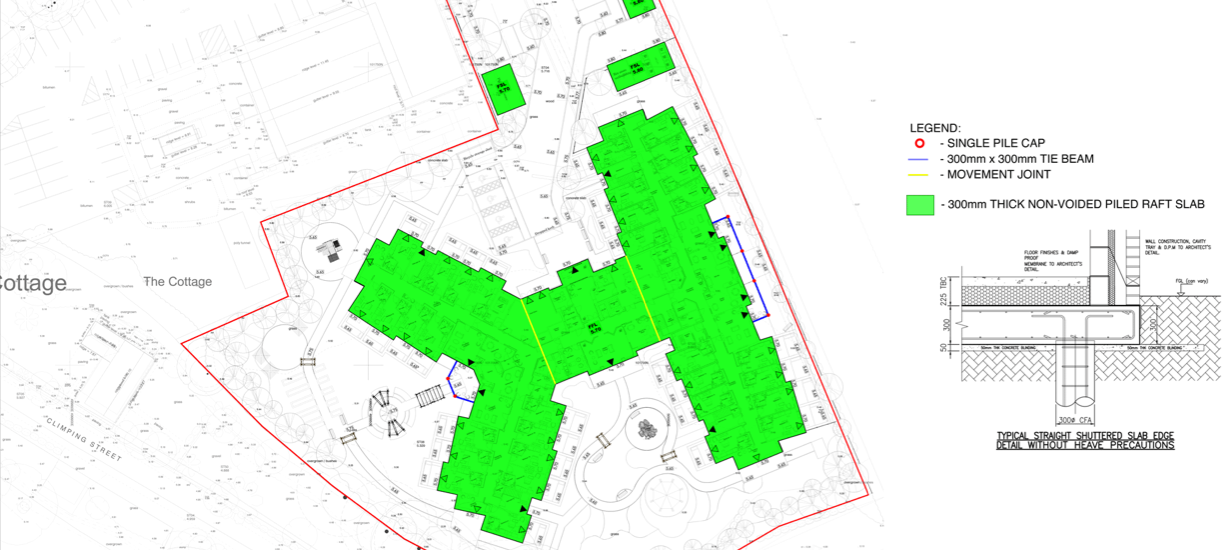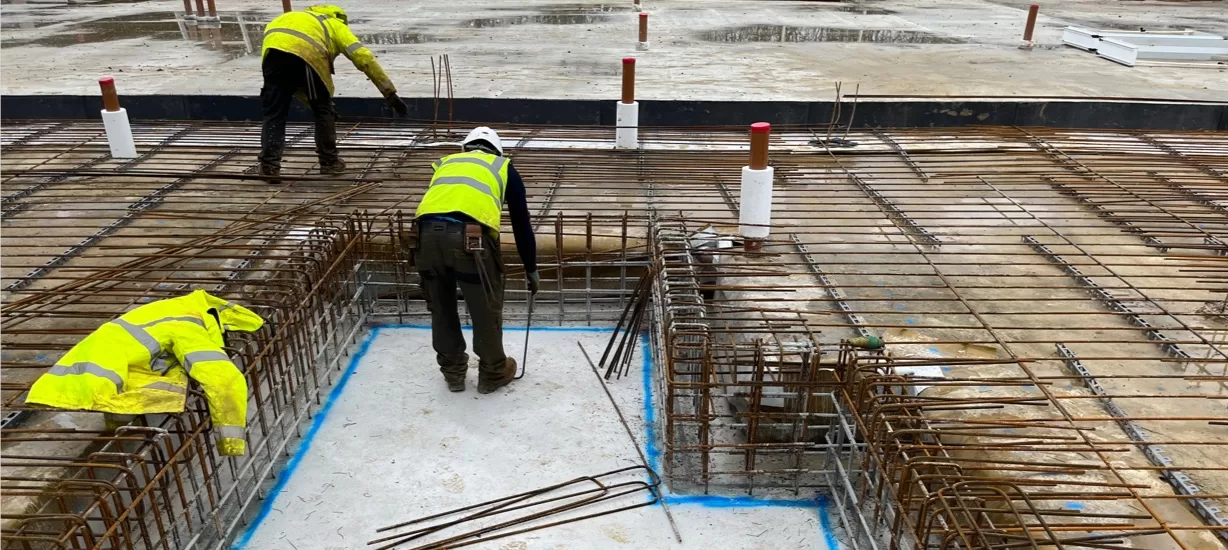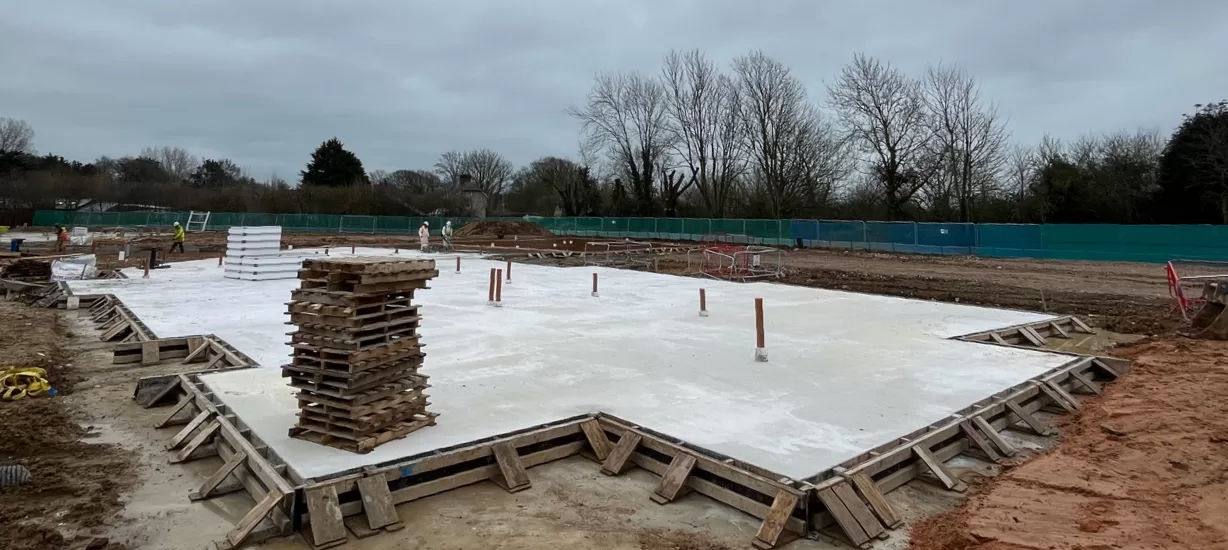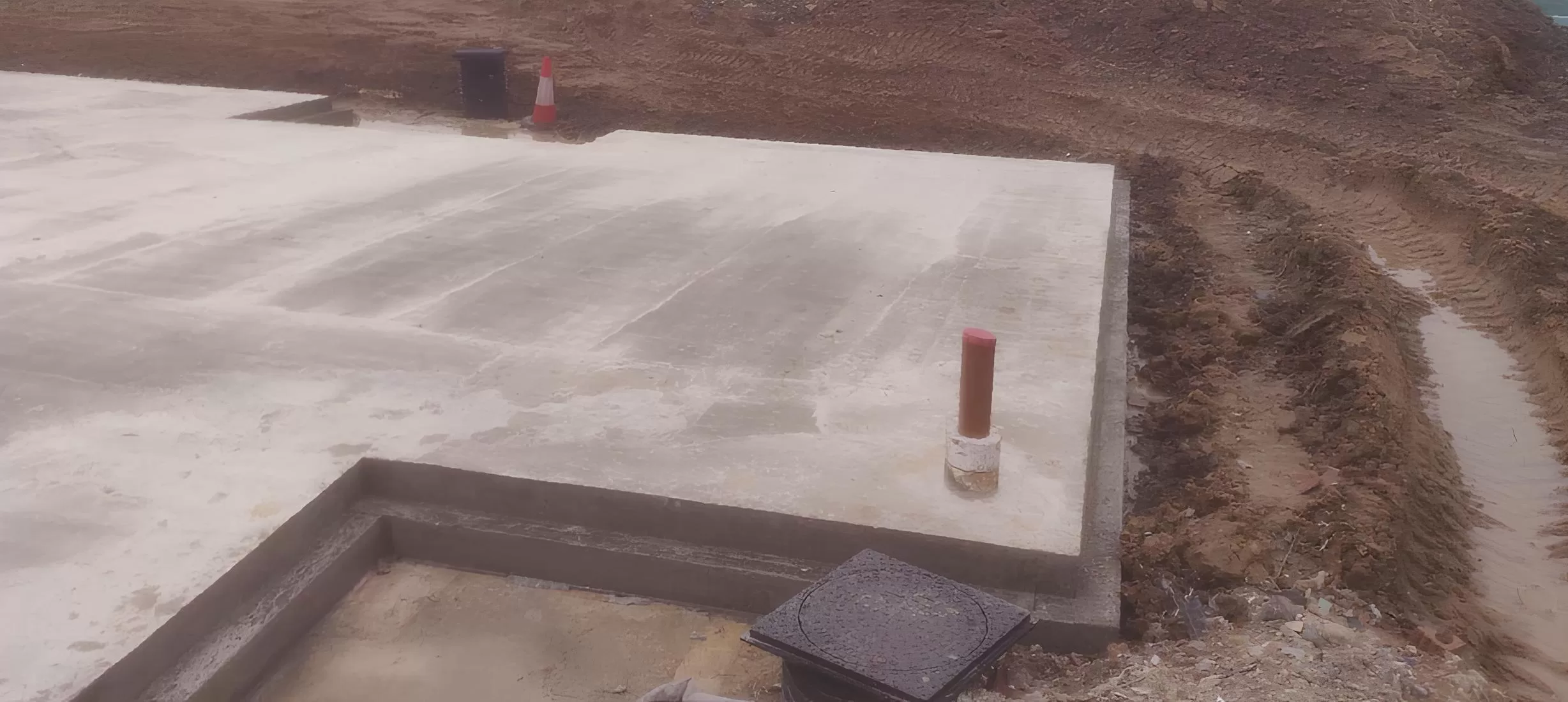 Project Conclusion
Strategic choices and innovative design techniques propelled the Baird's Farm project to completion with a perfect balance of speed and precision. Collaborative engagement with warranty providers, stakeholders, and partners was instrumental in executing this ambitious project within the span of just nine weeks.
Deep insights into the preferences and expectations of our clients, combined with our technical acumen, ensured the Baird's Farm Care Home surpassed expectations. SPEEDECK's deployment of efficient and adaptable foundation designs and construction strategies drove our ability to address challenges head-on.
This venture reinforces SPEEDECK's position as a company consistently delivering state-of-the-art foundation solutions for modern care homes and retirement facilities.